Scientists are getting better at hunting for planets, according to NASA, which on Wednesday unveiled a massive trove of hundreds of previously unknown exoplanets. Of the 715 newly certified exoplanets, which orbit stars thousands of lightyears from our own, a handful of them are considered the right size and distance from their star to potentially host life.
Like Us on Facebook
This was the biggest single-day announcement from astronomers studying Kepler Spacecraft data. After the Kepler mission launched in May 2009, it lasted just two years before a malfunction rendered its lens pointer useless. Nonetheless, scientists have continued to examine its findings to verify planet candidates. Until recently, this had been a tedious process.
"We've now developed a process to verify multiple planet candidates in bulk to deliver planets wholesale, and have used it to unveil a veritable bonanza of new worlds," said Jack Lissauer, of NASA's Ames Research Center in Moffett Field, Calif. His team has been sifting through the data far more quickly using a process that focuses on stars with more than one potential planet. "Through a careful study of this sample," NASA says, "these 715 new planets were verified."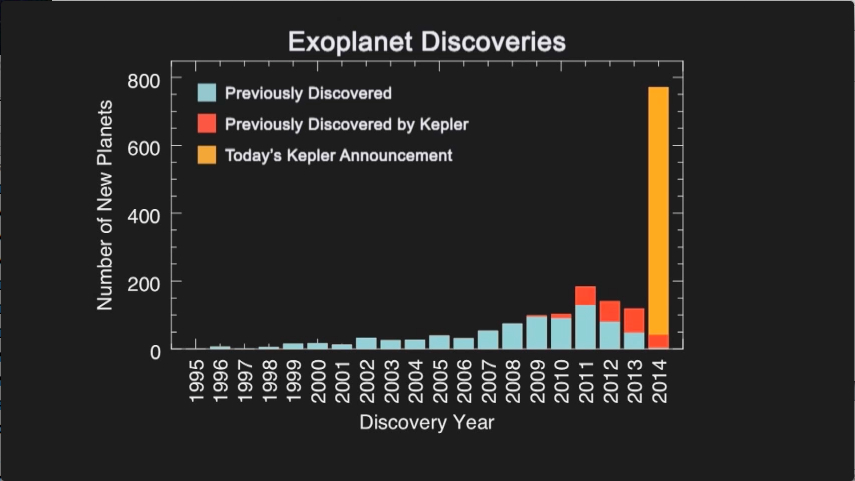 Astronomers say the more planets they find, the more diverse — yet familiar — the universe seems to be. Four of the planets they discovered exist within what astronomers and astrobiologists call the "habitable zone," a distance from their star neither too close nor too far to contain liquid water. The planets were also more similar in size to the Earth than many other exoplanets, which tend to be giants; these four were less than 2.5 times as big. But their composition is unknown. They could be gaseous, rocky, or completely submerged in a global ocean.
"From this study we learn planets in these multi-systems are small and their orbits are flat and circular — resembling pancakes — not your classical view of an atom," said Jason Rowe, of the SETI Institute in Mountain View, Calif., and co-leader of the research, in a statement. "The more we explore the more we find familiar traces of ourselves amongst the stars that remind us of home."
The Kepler Spacecraft is able to see these planets by looking for a telltale "wink" that happens when a planet orbits between the telescope's line of sight and a star. Sometimes scientists are able to extrapolate measurements like size, density, and distance from the star. From there, they can guess at the planet's composition. One Kepler planet discovered in November was the first known to have roughly the same size and mass as the Earth. But the planet, Kepler-78b, also circled its star every 8.5 hours, which means it's probably a lifeless blazing inferno.
Even though astronomers have only verified about 1,700 exoplanets, there are almost certainly billions more out there, and some researchers have endeavored to estimate how many whirl around the Milky Way galaxy. In November, astronomers at the University of California, Berkeley, arrived at their best guess for the number of exoplanets in the habitable zone: 40 billion. As scientists verify more planets with certainty, others can refine these estimates.
© 2012 iScience Times All rights reserved. Do not reproduce without permission.